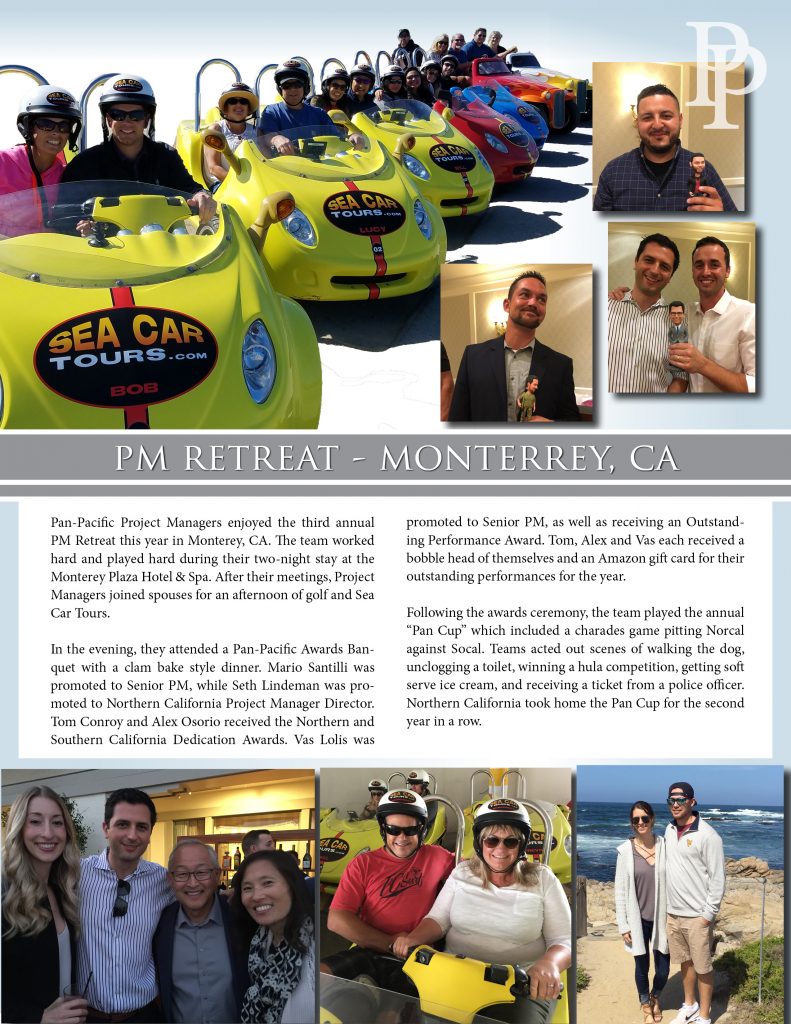 Pan-Pacific Project Managers enjoyed the third annual PM Retreat this year in Monterey, CA. The team worked hard and played hard during their two-night stay at the Monterey Plaza Hotel & Spa. After their meetings, Project Managers joined spouses for an afternoon of golf and Sea Car Tours.

In the evening, they attended a Pan-Pacific Awards Banquet with a clam bake style dinner. Mario Santilli was promoted to Senior PM, while Seth Lindeman was promoted to Northern California Project Manager Director. Tom Conroy and Alex Osorio received the Northern and Southern California Dedication Awards. Vas Lolis was promoted to Senior PM, as well as receiving an Outstanding Performance Award. Tom, Alex and Vas each received a bobble head of themselves and an Amazon gift card for their outstanding performances for the year.

Following the awards ceremony, the team played the annual "Pan Cup" which included a charades game pitting Norcal against Socal. Teams acted out scenes of walking the dog, unclogging a toilet, winning a hula competition, getting soft serve ice cream, and receiving a ticket from a police officer. Northern California took home the Pan Cup for the second year in a row.