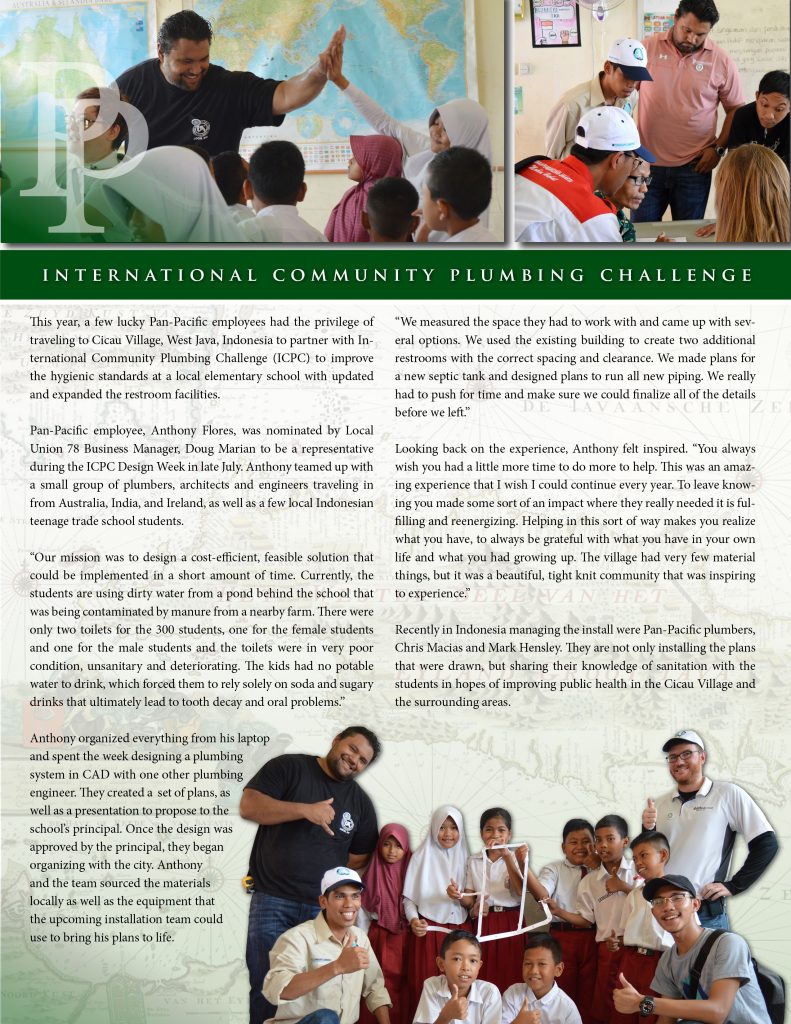 This year, a few lucky Pan-Pacific employees had the privilege of traveling to Cicau Village, West Java, Indonesia to partner with International Community Plumbing Challenge (ICPC) to improve the hygienic standards at a local elementary school with updated and expanded the restroom facilities.

Pan-Pacific employee, Anthony Flores, was nominated by Local Union 78 Business Manager, Doug Marian to be a representative during the ICPC Design Week in late July. Anthony teamed up with a small group of plumbers, architects and engineers traveling in from Australia, India, and Ireland, as well as a few local Indonesian teenage trade school students.

"Our mission was to design a cost-efficient, feasible solution that could be implemented in a short amount of time. Currently, the students are using dirty water from a pond behind the school that was being contaminated by manure from a nearby farm. There were only two toilets for the 300 students, one for the female students and one for the male students and the toilets were in very poor condition, unsanitary and deteriorating. The kids had no potable water to drink, which forced them to rely solely on soda and sugary drinks that ultimately lead to tooth decay and oral problems."

Anthony organized everything from his laptop and spent the week designing a plumbing system in CAD with one other plumbing engineer. They created a set of plans, as well as a presentation to propose to the school's principal. Once the design was approved by the principal, they began organizing with the city. Anthony and the team sourced the materials locally as well as the equipment that the upcoming installation team could use to bring his plans to life.

"We measured the space they had to work with and came up with several options. We used the existing building to create two additional restrooms with the correct spacing and clearance. We made plans for a new septic tank and designed plans to run all new piping. We really had to push for time and make sure we could finalize all of the details before we left."

Looking back on the experience, Anthony felt inspired. "You always wish you had a little more time to do more to help. This was an amazing experience that I wish I could continue every year. To leave knowing you made some sort of an impact where they really needed it is fulfilling and reenergizing. Helping in this sort of way makes you realize what you have, to always be grateful with what you have in your own life and what you had growing up. The village had very few material things, but it was a beautiful, tight knit community that was inspiring to experience."

Recently in Indonesia managing the install were Pan-Pacific plumbers, Chris Macias and Mark Hensley. They are not only installing the plans that were drawn, but sharing their knowledge of sanitation with the students in hopes of improving public health in the Cicau Village and the surrounding areas.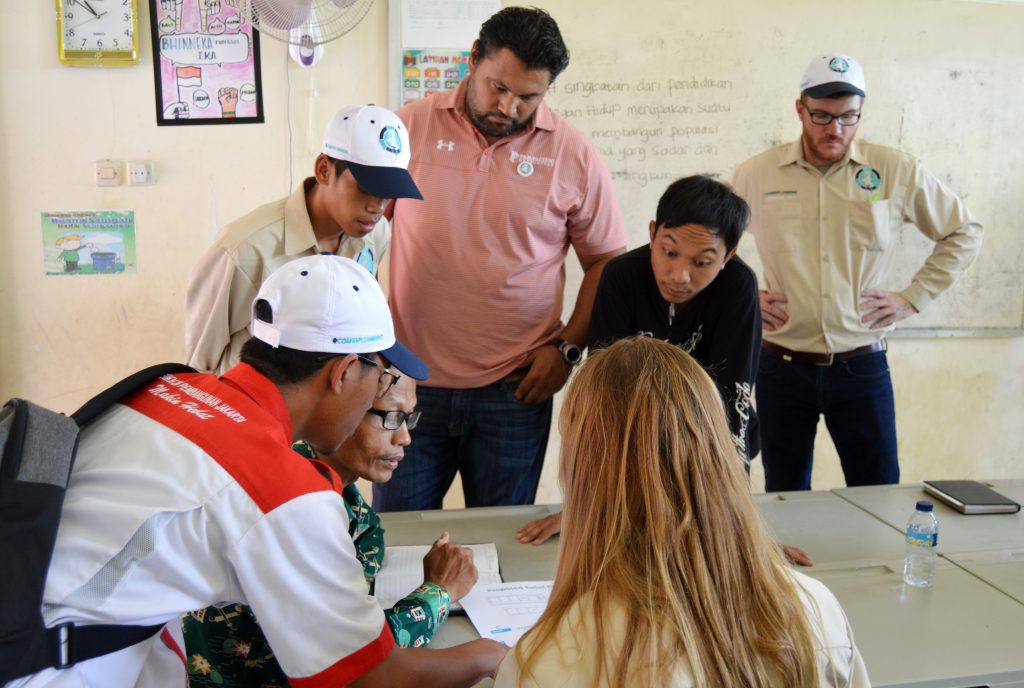 Photos courtesy of IWSH.org