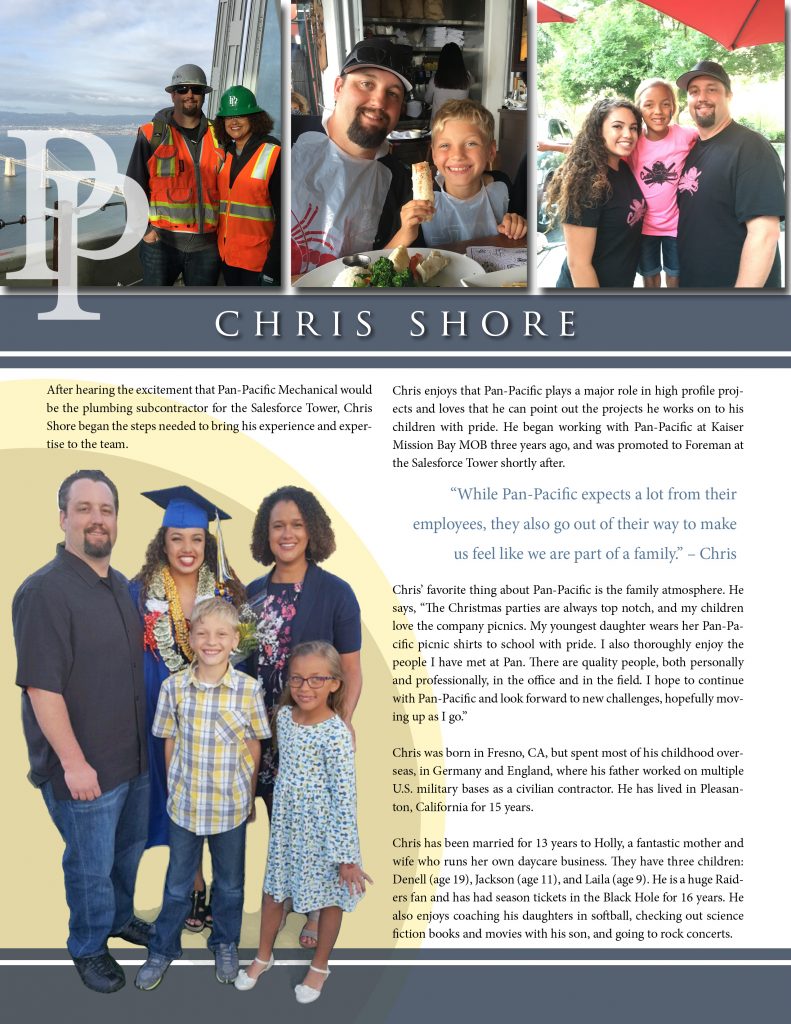 After hearing the excitement that Pan-Pacific Mechanical would be the plumbing subcontractor for the Salesforce Tower, Chris Shore began the steps needed to bring his experience and expertise to the team. Chris enjoys that Pan-Pacific plays a major role in high profile projects and loves that he can point out the projects he works on to his children with pride. He began working with Pan-Pacific at Kaiser Mission Bay MOB three years ago, and was promoted to Foreman at the Salesforce Tower shortly after.

"While Pan-Pacific expects a lot from their employees, they also go out of their way to make us feel like we are part of a family." – Chris

Chris' favorite thing about Pan-Pacific is the family atmosphere. He says, "The Christmas parties are always top notch, and my children love the company picnics. My youngest daughter wears her Pan-Pacific picnic shirts to school with pride. I also thoroughly enjoy the people I have met at Pan. There are quality people, both personally and professionally, in the office and in the field. I hope to continue with Pan-Pacific and look forward to new challenges, hopefully moving up as I go."

Chris was born in Fresno, CA, but spent most of his childhood overseas, in Germany and England, where his father worked on multiple U.S. military bases as a civilian contractor. He has lived in Pleasanton, California for 15 years.

Chris has been married for 13 years to Holly, a fantastic mother and wife who runs her own daycare business. They have three children: Denell (age 19), Jackson (age 11), and Laila (age 9). He is a huge Raiders fan and has had season tickets in the Black Hole for 16 years. He also enjoys coaching his daughters in softball, checking out science fiction books and movies with his son, and going to rock concerts.